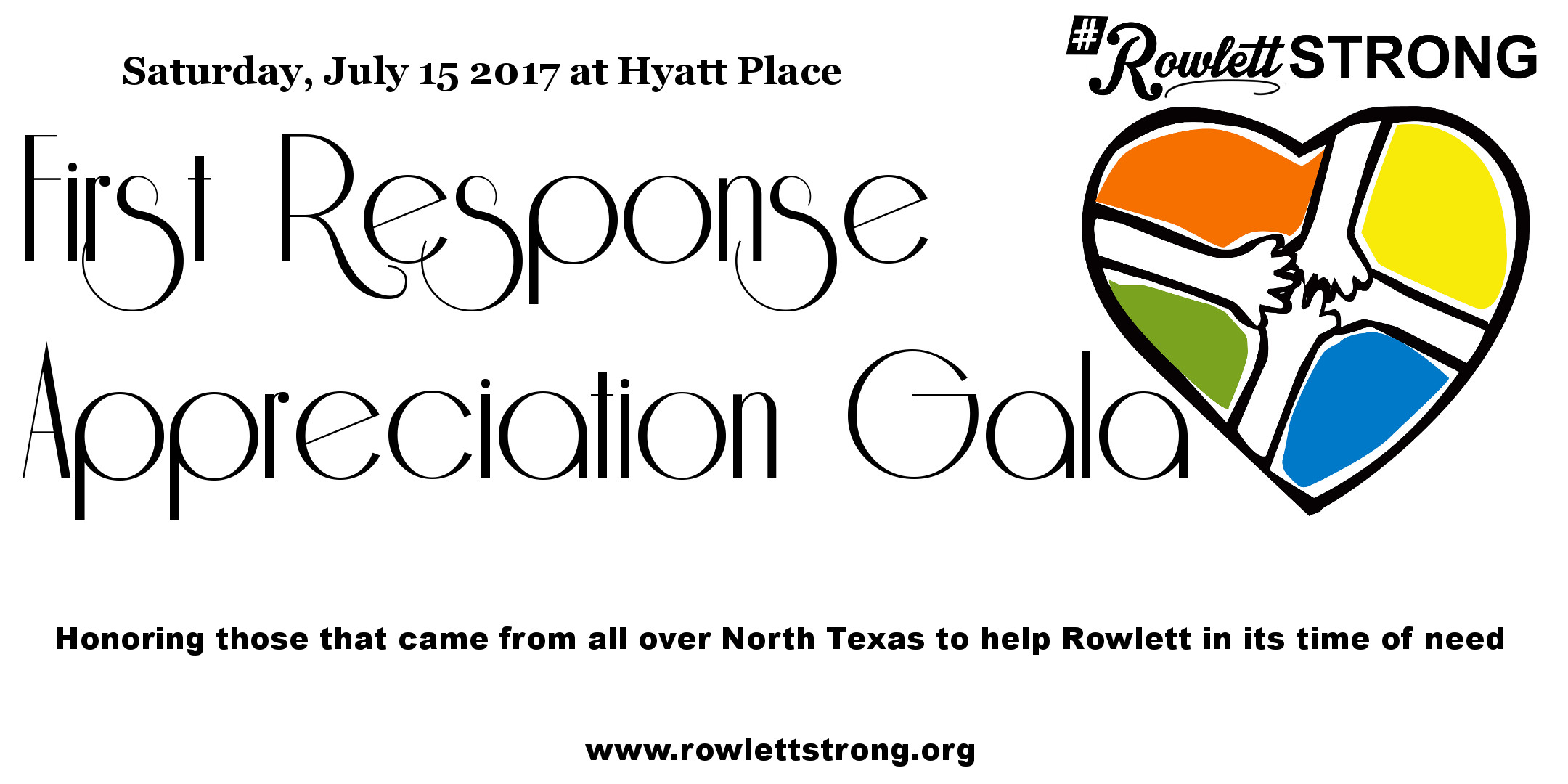 Why hold a first response appreciation gala?
I remember the day oh so well. I was at home with my family. The kids were just being kids but my attention was securely attached to the TV, and the radar depiction that showed one of the scariest pictures I have ever seen. I had a horrible feeling in the pit of my stomach.
I went outside and stood in the front yard. It was dark, it was drizzling, and looking south I could see the real-life version of the TV's weather radar image. I had a feeling that Rowlett's history of always being skipped over in major weather events like this one was coming to an end.
I went back inside and on the television the weather guy was saying, "Sunnyvale, Garland and Rowlett, TAKE COVER NOW." I rounded up the kids, helped them find our animals and into the laundry room we went. My little battery-operated radio was dead but we still had power. Then suddenly we didn't. I tried to pull up a radio or TV station on my phone, but the phone had no service. Like a dummy, I went back out on the front porch and looked. Just east across the lake I could tell something bad was happening. I couldn't see the funnel, but to this day I still believe I saw things in the air over that part of Rowlett that shouldn't have been there.
Ran back inside to be with my kids and waited. Still no power. After what seemed to be an eternity, I went to my car in the garage and turned on KRLD. The first words I heard were, "Garland and Rowlett, you are in the clear." Wow. Sounded like we had missed it after all. It was only a few minutes later that the power came back on and I started to hear the news. And that's when my phone rang. I heard my friend tell me his ex-wife's house (where his kids were), over near Church in the City, was gone…could I meet him there and help?
The rest is a blur. But one thing I do remember is by the time that night was over, I was seeing police cars and fire apparatus not only from Rowlett, but from Allen, Mesquite, Heath, and dozens more municipalities that had come in just to help out Rowlett, which was hit the hardest by this storm.
Rowlett has some of the finest first responders in North Texas. Our police and firefighters train regularly and stay up with the newest technology. They were as ready as any could be for a disaster like the Christmas Tornadoes. But the sheer amount of damage and the potential for subsequent injury and loss of life was too much for one city's responders to handle. We are very thankful for the cities and towns around North Texas that sent mutual aid and we want to recognize those that did.
The First Response Appreciation Gala, July 15th at the Hyatt Place in Garland, will recognize and honor the police and fire departments that responded to Rowlett with a plaque made of wood recovered from the tornado debris. The plaques will be crafted by local artist Troy Cox.
We will also recognize the other agencies and volunteer organizations that helped in the weeks and months following the event with a certificate of appreciation.
After expenses, funds raised will be used to set up The Rowlett Strong Foundation. The Foundation will be a future resource for all the municipalities that sent police and fire responders to help Rowlett when we needed the help the most. We will be there to help when one of these agencies has an officer or firefighter that is facing difficulty such as injury, family tragedy or death.
The First Response Appreciation Gala is a black-tie event. We will have a special guest keynote speaker, an incredible meal, a silent auction and casino night. In order to make this event happen, we need sponsors. For more information click here to see our page about the gala.
Sponsorships
Help us help those who helped us. Become a sponsor of the First Response Appreciation Gala. You can become the title sponsor for our Gala, you can sponsor our awards or silent auction, casino night, or simply purchase a table for your family or your company. Or you can purchase a table on behalf of some of our honorees. Each table seats ten, and your sponsorship will allow ten responders to come to the event at no charge to them or their department(s). Your sponsorship will be recognized in the event program and on the table you sponsor.
We also need attendees. You don't have to be from Rowlett to attend. Or Garland. Or any of the areas hit on 12-26-15. Because something like this can happen WHEREVER YOU ARE. Just last week East Texas was devastated by the same kind of storm.
If you love and cherish the first responders who put their lives on the line daily, this event is for you. Individual tickets are $75 and it's for an awesome cause!
<center><b>Individual Tickets $75. <br>Click for details or to purchase.</b><br><a href="https://www.eventbrite.com/e/first-response-appreciation-gala-tickets-33908895419?ref=ebtnebtckt" target="_blank"><img src="https://www.eventbrite.com/custombutton?eid=33908895419" alt="Eventbrite - First Response Appreciation Gala" /></a></center>